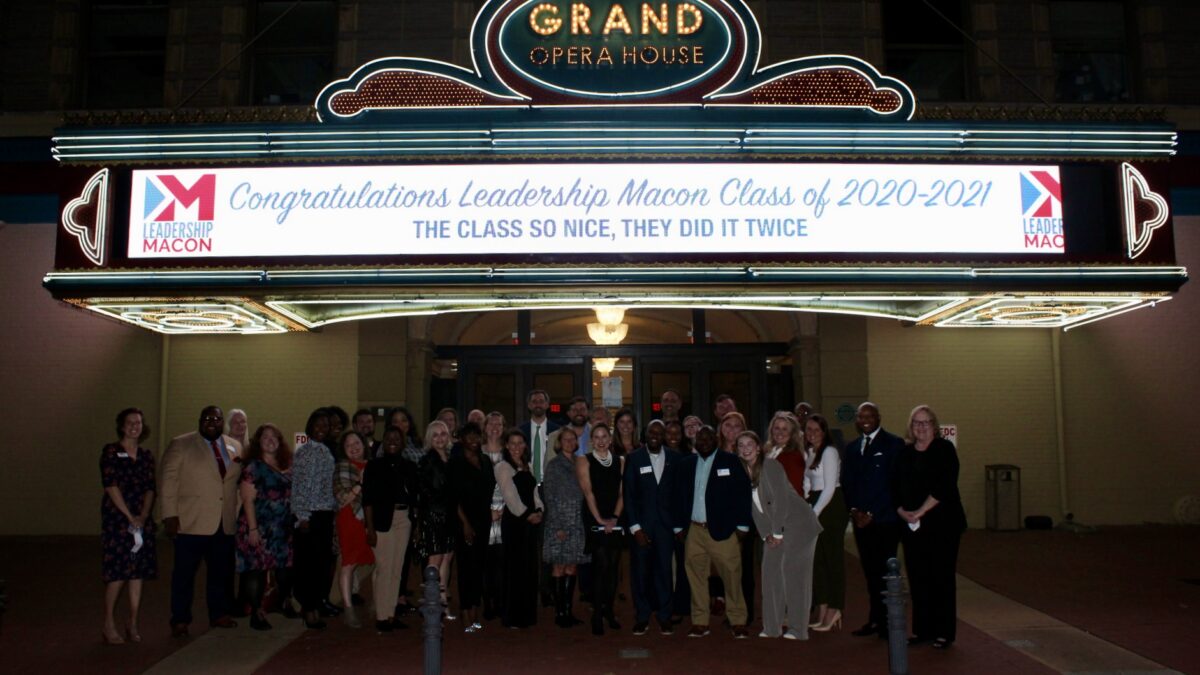 Leadership Macon Class of 2020-2021 Celebrates Graduation!
 (November 9, 2021) – The Greater Macon Chamber of Commerce is proud to announce the graduation of the Leadership Macon Class of 2020-2021.
Leadership Macon, a Greater Macon Chamber initiative since 1979, brings together individuals to encourage and equip leaders in Macon-Bibb County. Each member of Leadership Macon brings with them a unique perspective of the community and a desire to contribute to its improvement and success.
This prestigious year-long program includes monthly class days during which the participants engage with community leaders on government, business and other topics. Leadership Macon boasts over 1,600 alumni representing hundreds of local businesses.
The program also includes an annual community service project that the members organize and complete. This year's class project focused on updating the Brookdale Resource Center with murals and fresh paint, creating a more comfortable environment for the center's clients.
"I am so proud of this class and the way they navigated the unique challenges of participating in Leadership Macon during the pandemic. They are flexible, creative, determined, and will surely overcome any obstacles as they seek out ways to serve and improve our community. I look forward to seeing all they accomplish!" said Lynn Farmer, Director of Leadership Macon.
The class concluded last night at a graduation ceremony, where class advisor Rev. Jake Hall charged the members with this message: "You now have a responsibility because this is not the end … We now expect you to go out from this experience and to do more here … because you realize that what is kindled here is not just networks, but a real city that's alive."
                                                                  Please help us honor this year's graduates!                                                              
Chris Barroso
Jonathan Barton
Brittany Beauchamp
Mary Kathryn Borland
Brittanie Brown
Seth Clark
Carla Coley
Andrea Cooke
Lauren Deal
Rachel Gambill
Tyler Garrison
Elizabeth Hall
Elizabeth Hammock
Joe Hanson
Erin Hawkins
Tiffany Hicks
Shaqudaway Hiley
Amy Holbeck
Kelsey Holland
Tyler Kemp
Macey Kilgore
Kaitlynn Kressin
Kate Lambert
Shelton Land
Ryan Mims
Tiffany Minter
Joe Powers
Noel Robblee
Gary Rosser
Matt Shoemaker
Kesia Stafford
Jessica Stevens
Jamilah Stuart
Brad Thigpen
Logan Thomas
Robert Walker
Bernard Young
Tags In