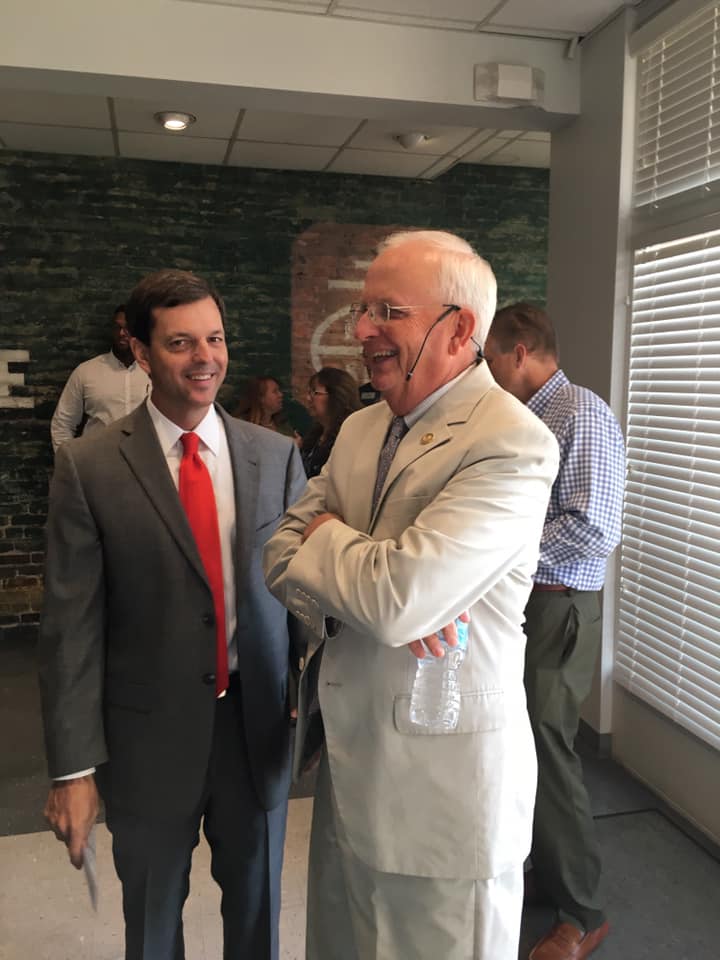 The members of the Greater Macon Chamber of Commerce Board of Directors are elected by the Chamber's members and are ranking executives in their organizations, representing many of the area's leading firms and industries, as well as the small business segment. These executives provide leadership as the Chamber pursues its aggressive agenda to foster a strong and growing economy in the Macon-Bibb County area.
The Board meets the last Thursday of the month. Call for meeting time and location information.
2019 – Executive Committee & Board of Directors
Jim Manley
2019 Chairman
Synovus Bank
Julia Magda
Chair Elect 2020
Magda Law
Patrick Goff
General Counsel
Jones Cork, LLP
Bruce Leicht
Treasurer
Cadence Bank
Susannah Maddux
Vice Chair of Member Engagement
Macon Magazine
Ron Shipman
Vice Chair of Economic Development / Past Chair
Georgia Power
Allen London
Vice Chair of Education & Workforce
Mercer University
Andrew Eck
Vice Chair of Small & Existing Business
Artisan Furnishings
Allen Freeman
Vice Chair of Regional & Government Partnerships
All Care Home Health, LLC
Miguel Garcia
Vice Chair of Military Affairs
Greene Machine
Jonathan Pitts
Vice Chair of Viability & Excellence
Macon Occupational Medicine
James Freeman
Vice Chair of Leadership Macon & Young Professionals Network (YPN)
Law Office of James Freeman
Albert Ertel
Vice Chair, Health & Wellness
Secure Health
Yvonne Williams
Chamber President & CEO
Greater Macon Chamber of Commerce
In addition to the Executive Committee, the following business leaders serve on the Chamber's board of directors.
Dr. Ivan Allen Central Georgia Technical College
Alyson Cozart Coliseum Health System
Andrew Eck Georgia Artisan Furnishings
James Freeman Law Office of James Freeman
Patrick Goff Jones Cork, LLP
Anthony Holloman Fort Valley State University
Bruce Leicht Cadence Bank
Sissy Macfie Regions Bank
Jim Manley Synovus Bank
Lester Miller Lester Miller, Attorney at Law
Hughes Pinson Renasant Bank
Bruce Riggins Ciceros Moving & Storage
Dr. Ninfa Saunders Navicent Health
Shawn Stafford Stafford Builders
Dr. Christopher Blake Middle Georgia State University
Stephen DaughertyColiseum Health System
Albert Ertel Secure Health
Miguel Garcia Greene Machine & Manufacturing
Robbo Hatcher H2 Capital Inc.
George Jones LE Schwartz
Bill Lindsey OrthoGeorgia
Sussanah Maddux Macon Magazine
Melanie Marshall Renasant Bank
Scott Mitchell Travis Jean Emporium
Jonathan Pitts Macon Occupational Medicine
Josh Rogers NewTown Macon
Ron Shipman Georgia Power
Jeff Thompson Constangy, Brooks, Smith & Prophete, LLP
Steven Brewer Steven Brewer, CPA
Thomas Driver Geotechnical & Environmental Consultants, Inc
Allen Freeman All Care Home Health, LLC
Travis Griffith Southern Pine Plantations
Ivey Hall Habitat for Humanity
Bill Kilburg BB&T
Allen London Mercer University
Julia Magda Magda Law
Matthew Michael M&R Marketing Group
Stacy Moore Cherry Blossom Festival
Amy Rauls John Wesley Villas
Amy Rowley Gannett Automotive
Tim Slocum Navicent Health
Bill Underwood Mercer University
Carol Williams Mercer Univeristy
Membership, Chairman's Club, Ambassadors,
Communications, Marketing, Networking Events
Leadership Macon, Young Professionals Network, Chamber Signature Events
Economic Competitiveness and
Workforce Development
Lynn Farmer
Talent & Workforce Engagement, MEDC
lfarmer@maconchamber.com
478-621-2017
Accounting, Chamber Operations
Executive Team