MEMBERSHIP BENEFITS
SMART Health Insurance Plan Access: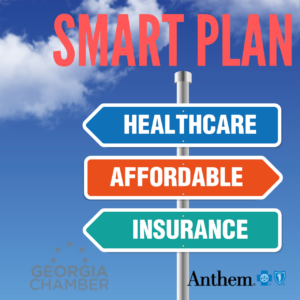 Click here to watch the Georgia Chamber SMART Plan introductory video.
Referrals:
The hundreds of people who contact the Chamber each month through phone calls, emails, online inquiries and walk-ins for referrals are given the names of Chamber members only. 
Networking Opportunities:
Each month, the Chamber gives you an opportunity to meet other members in the business community at different functions like Connecting Over Coffee, Ribbon Cuttings, Business After Hours, Good Morning Macon and more. Our goal is to create opportunities for business-people and community leaders to connect.
Communications:
Through workshops, webinars, emails and newsletters, we get you the information you need to succeed. The Greater Macon Chamber also works to create business and education partnerships to provide business training, educational seminars and informational events.
Professional Development:
Increase your company's edge by taking advantage of our Professional Development opportunities including programs likes Leadership Macon and the Ambassadors Program. The Chamber also partners with Macon-Bibb County Board of Education to provide training opportunities taught by industry professionals. You can have a direct impact on our schools and your future workforce.
Legislation/Government:
The Chamber tracks local, state and federal issues that affect our members and advocates for the business viewpoint to all levels of government so that public policy decisions lead to a healthy business climate and to a better quality of life.
Advertisements:
Your business name is published in printed form and in our online Business Directory. Also included is a link from our website to yours, connecting your Facebook, Twitter, LinkedIn accounts along with directions to your business location.
Sponsorships:
Sponsorships offer members an opportunity to showcase their facility or organization. The investments offer greater awareness for members while supporting critical programming to connect, advocate, educate and accelerate the business mission of the Greater Macon Chamber of Commerce.
ADDITIONAL MEMBER BENEFITS
Insurance Discount – Georgia Chamber SMART Plan
This plan was launched as a comprehensive
health program offered to small businesses that are members of the Chamber or are a part of the Chamber Federation. Administered through Anthem Blue Cross and Blue Shield, the plan allows smaller employers to join together and share in the overall claims risk. By being part of a larger, self-funded pool, employers have financial protection backed by Anthem.

Chamber SMART Medical and Specialty Products

Get SMART, A Great Plan For Small Businesses
Drugs Don't Work
This program is designed to assist businesses in developing a drug-free workplace. GA employers certified by the State Board of Workers' Compensation as having a drug-free workplace are entitled to a 7.5% discount on their workers' compensation premiums.

Drugs Don't Work
*Room Rental Discount
We have two rooms available for rent Monday through Friday depending upon availability of rooms at a very discounted rate. One of the rooms will accommodate up to 70 people and is equipment for AV presentation.
Mailing Labels
As a member, you may purchase a mailing list of members. This information includes company name, main contact and mailing address. The cost is $25. You must be a member to take advantage of this opportunity.
Add the Chamber Logo to Your Website
One of the benefits of membership is to demonstrate your commitment to the community by being a part of one of the most influential business organizations in the region. We encourage you to place the Chamber's logo on your website to show that you are actively engaged in moving our community forward.

Chamber Logo Horizontal.png
Chamber Directory
As a new member you will receive your first directory for FREE. The cost is $25 for all others.
Coupons and Discounts
Members may post Coupons and Discounts on our website at no charge.
SCORE
Whether you are in the planning stages or are ready to take your business to the next level, SCORE is here to help you with free mentoring and low-cost training. SCORE Middle Georgia is a non-profit resource partner of the Small Business Administration.

Middle Georgia SCORE

About Chamber & SCORE Partnership
Relocation Packets
Whether you have a new employee or a family member moving to the area, the Chamber offers a relocation package that gives newcomers a comprehensive overview of living, working and playing in the Macon area. This packet is FREE if picked up or the cost of shipping and handling if mailed. Relocation info is also on our website.
* Ribbon Cutting/Grand Opening
As a welcome to the Greater Macon Chamber of Commerce we are happy to help you coordinate your Ribbon Cutting. Whether the ceremony is to marks the official opening of a newly constructed location/Grand Opening or a second location, we can assist you in making your event official.
Certificate of Origin
A certificate of origin is a document issued by an exporter that confirms and certifies the country of origin of its products. A certificate of origin may be added to a commercial invoice that supports the listing of the country of origin by line item. We can assist in certifying this document.
Macon Magazine One-year subscription
A one-year/6 magazines subscription to the main contact of your company. Subscription begins one month after joining the Chamber.

Macon Magazine
Georgia Trend Magazine Life-time Subscription
All contacts of your company that are listed with the Chamber will receive a GA Trend Magazine for as long as you are a member. Subscription begins one month after joining the Chamber.

Georgia Trend Magazine
GA Chamber Federation Membership
Through the GA Chamber Federation, any business with 10 or fewer full-time employees who is a member of a participating local chamber will receive free Federation membership into the Georgia Chamber of Commerce. You will have access to the Georgia Human Resources Library, webinar series focused on small business education, savings tools for growth and tool to gain knowledge of the key legislative issues facing small businesses. To access these benefits, visit

Georgia Chamber Federation
* Presently due to COVID-19 some benefits are temporarily placed on hold or will be performed virtually until further notice. Please call us for more information.
BECOME A MEMBER TODAY
MEMBERSHIP MATTERS. JOIN THE CONVERSATION.
Membership in the Greater Macon Chamber of Commerce is a solid investment in the future of Macon-Bibb County and the entire Middle Georgia Region. With a unified vision and the strength of over 1,000 members, the Greater Macon Chamber of Commerce promotes a pro-business climate that encourages business growth and success. Your voice matters, so join today. Call (478) 621-2000 for more information.
Information Brought to You By: