Leadership Macon provides leadership training and community orientation to individuals seeking to become more involved in the growth and development of Macon-Bibb County. Leadership Macon is a year-long program that introduces a class of rising community leaders to the successes and challenges in Macon-Bibb County's public, private, and nonprofit sectors allowing the class to explore possible projects and solutions, interact with political and community leaders, and develop relationships that will benefit class members and the community at large for years to come.

Leadership Macon training begins with an examination of leadership styles, characteristics, and effectiveness followed by a weekend retreat at the beginning of the year. Monthly seminars follow on topics such as Housing, Education, Servant Leadership, Economic Development, Race Relations, Tourism, and Local Government. Each class provides a forum for guest community decision-makers to present topics and dig deeply into the complexity and various viewpoints surrounding each topic. The seminar format provides an opportunity for hardline questions and answers that traditionally cannot be addressed during more formal or routine public forums and allows the focus to change with each class adapting to reflect the current pulse of the community. Each year Leadership Macon brings together outstanding individuals and provides unparalleled access to organizations, their leadership, and perspective in our community. Frank, candid exchanges of ideas are not only hallmarks of the program, but are the foundation on which Leadership Macon continues to build. The program's goal is that each Leadership Macon graduate will be equipped with the knowledge, relationships, and enthusiasm needed for active, effective community involvement and enrichment.

Background
In 1979, through the Greater Macon Chamber of Commerce, Charles Jay and Bob Hatcher brought 25 local leaders from diverse areas and backgrounds in Middle Georgia to form the first Leadership Macon class. Formally organized as an association in 1984, Leadership Macon boasts over 1,500 alumni with a new class of leaders graduating every year for more than 40 years.


Leadership Macon Class of 2023
James Banter
James Bates Brannan Groover LLP
Nathan Bier
Ga Automatic Sprinkler Company
Joshua Boland
Cadence Bank
Renee Bryan
Navicent Health Foundation
Jared Bundrage
Department of Defense – Robins Air Force Base
Daniel Charles
United Way of Central Georgia
Katrina Cohens
Capital City Bank & Cohens Consulting
Ricardo Cordew
NewTown Macon
Felecia Cornelius
First Choice Primary Care
Kelda Cubit
Lizzie Chapel Baptist Church
Sara Davis
Macon-Bibb County Attorney's Office
Daniel Edwards
Mercer Engineering Research Center
Courtney Erikson
All-State Electrical
Melanique Floyd
Bibb County School District
Hollis Ann Gandy
Irving Consumer Products, Inc
Brittany Hadley
Macon Housing Authority
Monica Hall
Georgia Department of Human Services, Division of Child Support Services
Tanteneya Harpe
Generational Child Care
Hannah Hartman
Self-Employed
Tina Hobson
Self-Employed
Kyrie Hugdahl
Museum of Arts and Sciences
Tedra Huston
Macon-Bibb County Community Enhancement Authority/Pleasant Hill Community Development
Fernandez Jordan
Coca-Cola Bottling Company UNITED
Tonika Keith
Bibb County DFCS
Heather King
Georgia Farm Bureau
Charity Lucas
Brookdale Resource Center
Linda Marquez
American Pride Bank
Robert McCord
Macon-Bibb Emergency Management Agency
Mark McWilliams
Fall Line Brewing Co.
Andy Moore
Blue Bird Body Corp.
Tyasia Morrow
River Edge Behavioral Health
Susanna Patterson
Central Georgia CASA
Monique Pitts-Taylor
Community Foundation of Central Georgia
Marionne Redding
GEICO
Edna Ruiz
Macon-Bibb County
Thomas Skurja
McIntosh Trail Community Service Board
Ron Smith
Macon-Bibb Fire Department
Travis Spencer
RDG Ventures, LLC
James Taylor, Jr.
Macon-Bibb County Transit Authority
Belvin Ware
Macedonia Baptist Church
Sylvia Woodford
North Central Health District
Eddie Wright
Reeves Construction Co
Marcus Yarbrough
Macon-Bibb County Government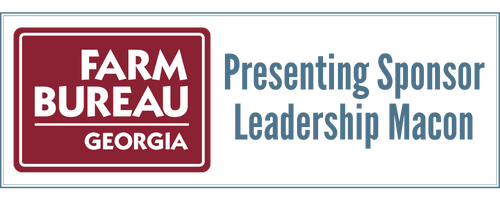 Leadership Macon participants are selected through nomination and evaluation of their leadership traits and potential. Leadership Macon accepts nominations for potential applicants from alumni and other interested citizens using an online form. Class sizes are limited. Attendance at all monthly sessions is required during the year. Tuition for the class is $1,700 for Chamber Investors and $1950 for nonmember investors. Scholarships and payment plans are available.

For more information, visit Leadership Macon's website.
Leadership Macon Advisory Board
Rhonda Lowe
Board Chair
Jake Hall
Class Advisor
Alison Bender
Steven Jones
Kaitlynn Kressin
Spencer Hawkins
Chair-Elect
Gary Rosser
Class Advisor
Barbara Parker
Gary Rosser
Marvin Riggins
Sylvia McGee
Past Chair
Lynn Farmer
Program Director
Ann Starley
Asbury Stembridge
Che Young