Leadership Macon provides leadership training and community orientation to individuals seeking to become more involved in the growth and development of Macon and Bibb County. Leadership Macon is a year-long program that introduces a class of upcoming community leaders to the attributes of, and challenges to Macon and Bibb County so that the class can explore possible projects and solutions, interact with political and community leaders, and develop relationships that will benefit each class member and the community for years to come. Class members attend a weekend retreat at the beginning of the year, followed by monthly seminars on such topics as Housing, Education, Servant Leadership, Economic Development, Race Relations, Tourism, and Local Government.
In 1979, through the Greater Macon Chamber of Commerce, Charles Jay and Bob Hatcher brought 25 local leaders from diverse areas and backgrounds in Middle Georgia to form the first Leadership Macon class. It has been an annual program since then. Formally organized as an unincorporated association on October 16, 1984, Leadership Macon boasts over 1,500 alumni.
Each monthly Leadership Macon seminar provides a forum for community decision-makers to present topics of interest, and issues of importance and concern. During the course of one year, several speakers and facilitators discuss challenging changes, complex situations and various viewpoints. The seminar format provides an opportunity for hard-line questions and answers. It also sets an appropriate stage for digging deeply into topics that are perhaps only lightly addressed during formal, but routine, newscasts or other public forums. Therefore, each year the class focus changes somewhat to reflect the pulse of the community. Also examined are leadership styles, characteristics, and effectiveness. Traditionally an orientation retreat begins the program each year in January; the class meets monthly from February through November; participants graduate in December.
Each year Leadership Macon brings together outstanding individuals, and each one brings with them matchless and unparalleled perspectives of our community. It has been said that Leadership Macon attempts to draw upon this unique feature during the frank and candid exchange of ideas. It is indeed upon this foundation that this vital program will continue to build.
Through the years, Leadership Macon has also promoted civic responsibility by encouraging involvement, as well as breeding enthusiasm and dedication. It is the ultimate goal of Leadership Macon that its participants will enrich our community through active involvement in shaping its future. By encouraging the utilization of the leadership capabilities of its participants and its growing alumni, Leadership Macon is meeting the challenge.
Leadership Macon Class of 2020
Chris Barroso
Hargray Fiber


Jonathan Barton
Cadence Bank


Brittany Beauchamp
CenterState Bank


Mary Kathryn Borland
Central GA Technical College

Logan Bowlds
Stratford Academy


Brittanie Brown
Credence Management Solutions
Mack Bullard
Bibb County School District


Christopher Cabiness
New Hope Missionary Baptish Church
Seth Clark
Harbor Strategies, LLC


Carla Coley
North Central Health District



Andrea Cooke
C'Qul (Choosing A Quality of Life)


Sean DeZoort
Roland, Abbott& DeZoort Insurance


Rachel Gambill
Macon-Bibb County

Tyler Garrison
Macon-Bibb Co. Industrial Authority

Elizabeth Hall
James-Bates-Brannan-Groover, LLP

Elizabeth Hammock
Martha Bowman Memorial UMC
Joe Hanson
L.E. Schwartz & Son, Inc.
Erin Hawkins
Mama Hawk Draws
Tiffany Hicks
Clark Nexsen
Shaqudaway Hiley
AT&T

Amy Holbeck
116th Air Control Wing


Kelsey Holland
Georgia Power
Tyler Kemp
BASF
Macey Kilgore
River Edge Foundation

Kaitlynn Kressin
JBK Southern, Inc.



Kate Lambert
Springdale Elementary School
Shelton Land
United Way of Central Georgia
Ryan Mims
Renasant Bank
Tiffany Minter
United Healthcare
Joe Powers
Cox Media

Noel Robblee
Robins Air Force Base


Gary Rosser
Cadence Bank
Matt Shoemaker
Jones Cork, LLP
Kesia Stafford
Stafford Builders
Jessica Stevens
Coldwell Banker
Jamilah Stuart
Anderson Conference Center

Brad Thigpen
Geotechnical & Environmental Consultants
Logan Thomas
Georgia Farm Bureau


Jenna Van Harpen
Blue Bird



Robert Walker
Macon-Bibb County Recreation Department


Lauren Woods
LBA Ware
A. Bernard Young
Southwest High School
Lynn Farmer
Director, Leadership Macon Program
Alison Bender
Class Advisor
LM Class of '18
Jim Davis
Class Advisor
LM Class of '16
Jake Hall
Class Advisor
LM Class of '18
Brenda Sutton
Class Advisor
LM Class of '12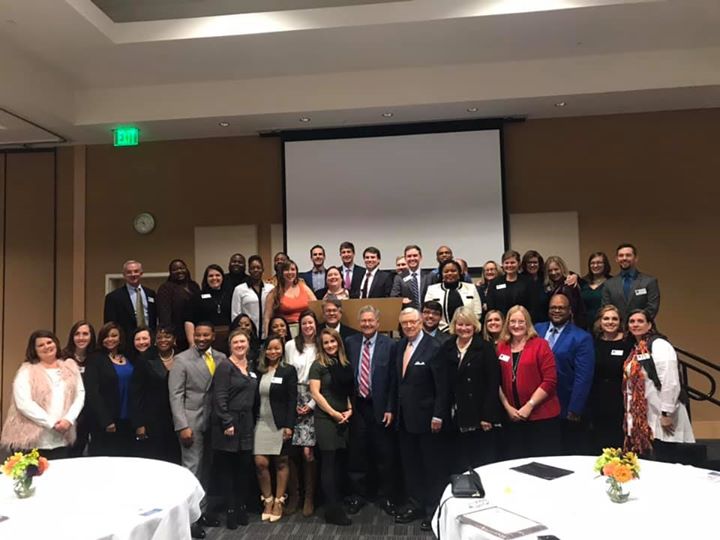 Since class size is limited, each year's class is chosen through nominations and evaluation of their leadership traits and potential. Leadership Macon takes nominations for potential applicants from alumni or any other interested citizens. This process is handled using an online form that collects nominations. Candidates must agree to attend all monthly sessions during their class year. The candidate must pay tuition for the class: $1650 for chamber members and $1900 for non members. Payment arrangements and scholarship assistance are available.

For more information, visit Leadership Macon's website.

Leadership Macon Advisory Board
Susan Headley – Board Chair

James Freeman – Immediate Past Chair
James Freeman Law

Alison Bender – Class Advisor
Class of 2018
New York Company Company

Jessica Bowers

Jim Davis – Class Advisor
Class of 2016
Retired Tax Commissioner

Lynn Farmer – Director
Leadership Macon Program

Andrea Freeman
Cox Media

Jake Hall – Class Advisor
Class of 2018
Highland Hills Baptist Church
Walt Hiley
Renasant Bank

LaTrenda Leaks
GIGA, Inc.

Rhonda Lowe
Stafford Construction

Vicki Mills
Radiology Associates of Macon

Nikki Randall
Navicent Health

Thomas Rhodes
Coldwell Banker Commercial

Amy Tarpley
MBCIA

Geneva West