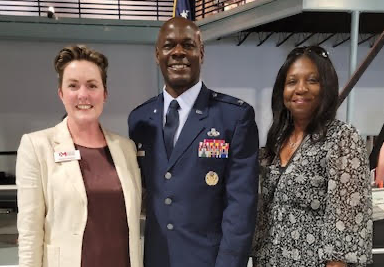 Welcome Col. Deedrick L. Reese
Last week the Greater Macon Chamber of Commerce joined community leaders to witness the change of command ceremony for the 78th Air Base Wing at Robins Air Force Base, Georgia. The change of command represents one of our country's oldest military traditions.
The ceremony marked Col. Deedrick L. Reese taking over command from Col. Lindsay C. Droz, who had held the position since June 2021. Col. Droz is now director of staff at Air Force Materiel Command located at Wright-Patterson Air Force Base, Ohio.
Col. Reese served as commander of the 1st Special Operations Maintenance Group at Hurlburt Field, Florida before his assignment to RAFB.
In the 78th ABW's 31-year history, Reese is the 17th commander and the first African American to serve in this role. As the commander of the 78th ABW, Reese also took over as the commander of the installation, making him responsible for the safety, security, morale and welfare of more than 22,000 total force Airmen across more than 50 mission partners, including a major command, an air logistics complex and multiple wings, along with 28,000 local dependents and retirees.

Pictured are Greater Macon Chamber of Commerce President Jessica Walden, Col. Deedrick Reese, and Greater Macon Chamber of Commerce Vice President of Engagement Renita Patterson.