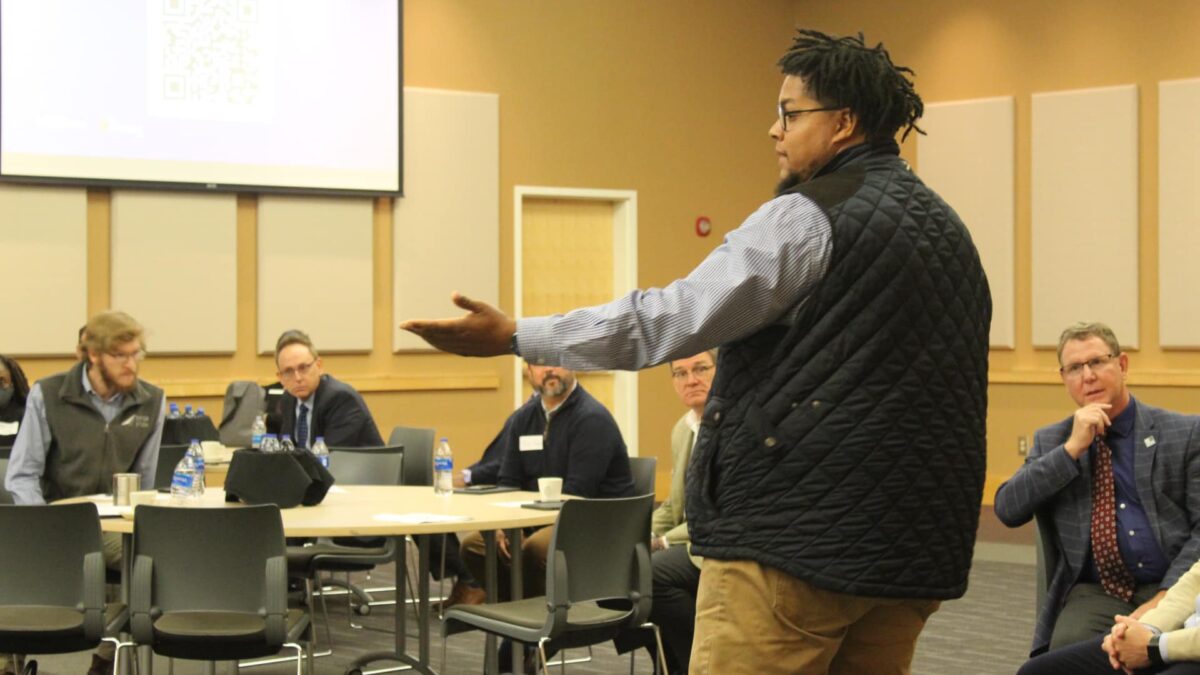 State of Small Business Launches in Macon
From the Georgia Department of Economic Development
"With more than 1.6 million Georgians employed in small businesses across the state, this critical economic sector remains a top priority for the Georgia Department of Economic Development (GDEcD). To increase awareness of the vital resources provided for small businesses through GDEcD and encourage a continued open dialogue on challenges and available opportunities, Governor Brian Kemp announced a new role at the Department during National Small Business Week 2021: Director of Small Business Outreach. This position was created by recommendation of the Georgians First Commission and designed to empower and educate small businesses while and encouraging entrepreneurship as part of Governor Kemp's mission to make Georgia a top state for small business.
This new venture at the Department kicked off on November 15, in Macon, Georgia, with the first in a series of regional roundtables between GDEcD and area small business stakeholders. The inaugural "State of Small Business" community event was organized in partnership between GDEcD, the Greater Macon Chamber of Commerce, and Middle Georgia State University. In addition to the overall goals of the program, the roundtable was a chance to again hear directly from Georgia's small businesses about the unparalleled challenges they have faced during the pandemic and to offer support related to specific needs where possible.
To kick off the event, Macon-Bibb Mayor Lester Miller and Middle Georgia State University Provost Dr. David Jenks provided a warm welcome to small business owners and entrepreneurs. Next, addressing concerns shared by chamber members that maintaining a skilled workforce remains a top challenge, President and CEO of the Greater Macon Chamber of Commerce Yvonne Williams shared details on the state of small business in Macon and the chamber's efforts to address local workforce issues through the Macon Works online platform.
The Georgia Department of Economic Development's Director of Small Business Outreach, Allen Fox,  outlined GDEcD's approach to empowering small business by championing pro-growth policies, connecting businesses with vital resources, and providing marketing support to help Georgia's small businesses remain competitive. Fox reminded attendees that 80% of GDEcD's work is with small business in industries ranging from food and beverage production to manufacturing product parts and machinery to retail, arts, and hospitality, to film production and more.
During the event's open discussion, local small business owners shared insights into the variety of challenges they confront in keeping their doors open. This dialogue gave attendees the opportunity to provide firsthand accounts of their unique experiences in building their businesses and to offer feedback to supporting agencies and organizations.
Finally, Middle Georgia State University hosted a resource networking reception with advocacy groups including the University of Georgia's Small Business Development Center (SBDC), the Middle Georgia Chapter of SCORE, and Central Georgia Tech. These organizations were on-site to provide support, mentorship, and guidance for attendees.
GDEcD is grateful for the efforts of its Macon partners, the Greater Macon Chamber of Commerce, and Middle Georgia State University, as the program will serve as a model for future small business events in communities across Georgia.
For additional information on the variety of resources GDEcD offers to support small businesses, please visit our State of Small Business page here, and our small business resource page here.  "
Tags In