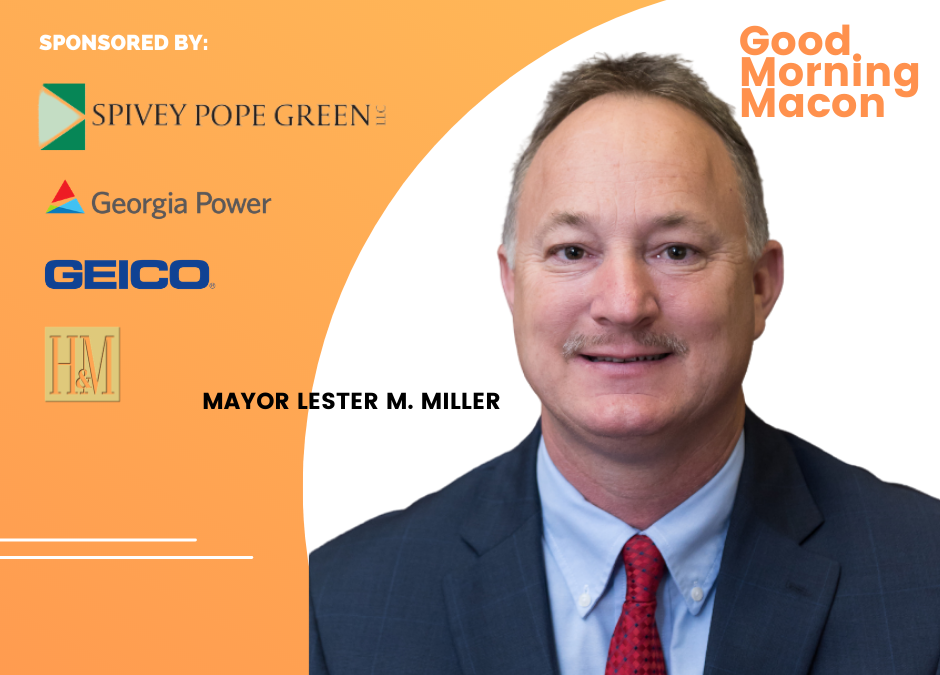 Good Morning Macon with Mayor Lester Miller Recap
WGXA Article Written by Greg Loyd |
View Good Morning Macon recording here.
space
MACON, Ga—Mayor Lester Miller addressed economic growth, work force development, and public safety initiatives for Macon-Bibb County when reflecting on his first month in office during a webinar session of "Good Morning Macon" sponsored by the Greater Macon Chamber of Commerce.
"I've been mayor all of 29 days now, but we have a lot to be thankful for already," Lester said during the virtual session Friday morning, Jan. 29.
One thing that Miller said gives him pride is the unity he senses among Macon-Bibb leaders. Since he took office, Miller said he and the commission have tackled 72 agenda items and that every one of those passed.
"We may not always agree, but I really think everyone on this board, on this commission, wants to see Macon-Bibb County move forward together, and I think we're moving in the right direction."
One positive result of unity, Miller pointed out, is the new Brookdale Warming Station. He said he made it a priority after two men with no place to turn for warmth died in Macon on Christmas.
"The warming center is something that they [local leaders] thought about for ten years, and we were able to successfully complete that in about four or five days. It's the right thing to do," Miller said. "I talked about the gentlemen who lost their lives on Christmas night in Macon . . . freezing to death. It's not acceptable in 2021. It's certainly not acceptable in Macon-Bibb County as much as we care for our community."
Miller said his administration hit the ground with momentum during his first month in office thanks to a diverse transition team, one he started building last summer.
"It involved people who supported me as mayor and those who did not support me as mayor, to begin with," Miller said. "We thought it important to make sure we had people covered from all walks of life- all races, genders, ethnic backgrounds, and sexual identities. All that stuff came into play because we wanted to make sure our community was represented as a whole."
The mayor also spent time discussing the economy and said his administration wants to help small businesses prosper, especially amid the pandemic.
"Know that we're going to do everything within our power to take care of small businesses when the COVID relief comes in," said Miller. "I've been speaking closely with President Biden and his administration to make sure Bibb County gets their fair share of whatever proceeds we get for our small businesses."
Miller also said he understands the struggles of small businesses, being a business owner himself. With that in mind, he addressed the liquor moratorium currently in place on stores that sell packaged liquor.
"I'm a small business person myself, and the moratoriums we've done are not to hurt small businesses," said Miller.
With that particular moratorium in mind, Miller offered an explanation for it.
"And we did that because, riding around with companies that want to invest, $200, $300 or $400 millions dollars in our county, told us, 'You have too may per capita in Macon-Bibb County. When we ride these areas and we see the pay day lenders and we see the liquor stores, it gives a very negative effect. And it really affects whether we want to come to Macon-Bibb County or not,'" Miller said.
Miller also said he's excited about getting Macon-Bibb cleaned up–and he said progress has already started.
"What's very exciting about this is we've cleaned up over 20 illegal dumps already this year," Miller said. "Last year, they cleaned up 24 the entire year. We've done that in exactly 10 days."
But the mayor said he alone does not take credit for that accomplishment.
"It's the good men and women we have working with us. It's also having great community partners like Keep Macon-Bibb Beautiful that have stepped up the plate," Miller said. "Our public works department, our parks and beautification, our solid waste, all those, and even our sheriff's department and inmates from the Bibb Co Law Enforcement Center have stepped up to clean our community."
Miller also set up a code enforcement department, part of his promise to clean up blighted structures. Among the sites, hundreds of homes in the city and county that have been gutted by fire and abandoned.
"We realized that we had over 849 houses that have been burned, residential houses that have burned, and a lot of those houses people are not paying taxes on, and it becomes a blight and a dangerous situation for our community. We believe many of those offer a situation where we can rehab or tear down those houses because they create such an eye sore in Macon-Bibb County which adversely affects business."
Miller stressed that getting rid of blight is about more than just tearing down. He said there also needs to be plans for rebuilding.
"We don't want to tear down places in our community and not rebuild it. We want to have a purpose. We want to be intentional about getting into neighborhoods and making sure that we can give them a safe and secure environment where they can raise their families and everyone can thrive," said Miler.
But Miller's philosophy of repurposing blighted areas also extends to commercial areas. He said his administration plans to make big announcements about it in the coming days.
"We can repurpose these buildings to suit other needs and be a leader. I think we're going to be the leader in a couple of things that we're going to be announcing in the next few weeks that's going to set the tone for not only the state of Georgia, but across the country. So I'm excited when we get to release that out. Know we're working hard behind the scenes for the business community."
Miller shared that his focus on blight is also an emphasis on public safety, pointing out blighted areas tend to attract more crime.
However, another part of his public safety focus includes hiring and retaining new police officers and firefighters.
Miller said Macon-Bibb faced an officer shortage of 150 deputies, but says 20 new ones were recently hired.
Miller said getting fully-staffed will still take time, but said his administration is committed to hiring and retaining quality recruits.
"The hard part is making sure we provide the funding for that. It's one thing to pass the bill. It's another to fund it," said Miller. "We've committed to fund that for all our public safety, and all of our employees because for far too long, they've been underappreciated and underpaid, and we want to make sure they're compensated. And we want to make sure we have the very best. So to do so, we have to pay enough money to incentivize that."
Miller also stressed the need to develop the Midstate workforce. He said the community can achieve that goal, thanks in large part to the chamber's "Macon Works" program.
"I think we're going to see our workforce development continue to explode. And we're going to lead all of Georgia right here in Middle Georgia," said Miller.