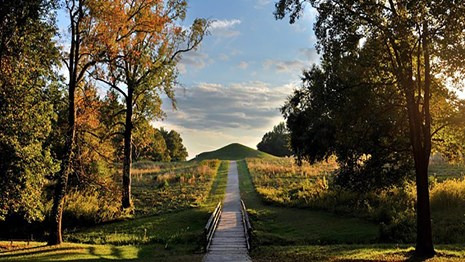 Pre-historic American Indian hunting site in Macon becomes national park
By Melanie Lasoff Levs – Associate Editor, Atlanta Business ChronicleDec 13, 2019, 3:33pm EST
https://www.bizjournals.com/atlanta/news/2019/12/13/pre-historic-american-indian-hunting-site-in-macon.html
A prehistoric American Indian hunting site in Macon, long a source of pride for the city, has become a national park, now a source of pride for the country – and a new tourism and economic development draw.
In March, the Ocmulgee National Monument was renamed Ocmulgee Mounds National Historical Park. This new designation is expected to increase the annual economic impact of the site on Macon-Bibb County from $10.8 million a year to $233 million a year, according to a 2017 study by the Ocmulgee Parks and Preserve Initiative.
While the park itself does not charge admission, Macon benefits through visits to restaurants, other attractions, retail, hotels and other avenues, said Lisa Lemon, executive director of the Ocmulgee Mounds Association, the nonprofit partner of Ocmulgee Mounds National Historical Park.
While part of the 2019 Leadership Macon class, Lemon suggested an educational project for Ocmulgee, which the class adopted and raised $117,000. The project includes: building an outdoor classroom, rebuilding the woodland house destroyed during the government shutdown in January 2019, when there were no park rangers; and kits for educators to use during visits to the park as well as in class. "The classroom will provide an opportunity for learning to take place in the natural elements of the park," said Lemon.
Ocmulgee plays other roles outside of being a tourist destination and historic area, she added, citing an initiatives to remove invasive species to make room for native Rivercane at the site, and also a project to provide Muscogee youth an opportunity to reconnect to their ancestral homeland.
The park, which is the most visited attraction in Macon with about 150,000 visitors per year, has 17,000 years of continuous habitation, said Angela R. Bates, supervisor park ranger-interpretation/volunteer manager of Ocmulgee Mounds National Historical Park. "Four pre-historic cultures occupied this land before European settlers. The Mississippians came here around 900 and built mounds for their elite members of society. There are seven mounds in the park today. The park also has an Earth Lodge, which was used as a council chamber, and the floor is original and dates to 1015."
Among the partners in seeing the national park designation come to fruition are: the Greater Macon Chamber of Commerce, U.S. Rep Austin Scott, who helped pass the Natural Resources Management Act, which included the new designation and expansion of the park's boundaries from 700 acres to 2,800; James Floyd, Principal Chief of Muscogee Nation; and Brian Adams, Ocmulgee Parks and Preserve Initiative president, who is raising funds to expand the park to up to 70,000 acres.
"Visitors who come here are surprise by how much history we have in this area," said Bates. "People like coming here because of the historical significance but also because of the natural resource as well. We have eight miles of walking trails in the park and a wide variety of wildlife."