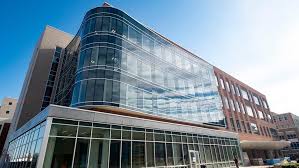 Health care companies expand in Macon's market
By Fran M. Putney – Contributing Writer Dec 15, 2019, 9:00am ESThttps://www.bizjournals.com/atlanta/news/2019/12/15/health-care-companies-expand-in-macon-market.html
Significant investments by the two primary health care providers in the Macon area have not only resulted in major improvements in health care access and delivery to area residents, but have also become a catalyst for attracting new business to central Georgia.
In just the last year, Coliseum Health System has invested nearly $10.5 million to upgrade its two hospital emergency departments. And Navicent Health, which merged with Charlotte-based Atrium Health on January 1, opened the region's first pediatric hospital and began operating a new state memory care clinic.
Health care is a major economic indicator for the Middle Georgia region, according to Greater Macon Chamber of Commerce President and CEO Yvonne Williams. With over 16,000 jobs, it's the largest employment sector for Macon-Bibb County. Many of those jobs, she noted, offer mobility in compensation and career opportunities.
"It's a great selling point for businesses that are moving to the Middle Georgia area because obviously when they're looking at employment opportunities, they look at the lifestyle factors that afford them to have quality health care operations, as well as the university educational component," she said. "It's a huge driver for our ongoing economic development strategy."
Since the "strategic combination" of Navicent and Atrium Health — as Dr. Ninfa M. Saunders, president and CEO of Navicent Health prefered to refer to the merger — the nonprofit company is realizing savings and efficiencies in areas like scale, project scope, organizational structure and skill competencies. At the same time, the company was determined not to lose local jobs, she said.
"We are the biggest economic development center for this community and loss of jobs will be a major blow for this community," she added. "The containment, and if anything, increasing of jobs is important to the economic viability of this organization."
Navicent Health opened The Beverly Knight Olson Children's Hospital, an $82 million, 160,000- square-foot facility, in February. It is the only dedicated pediatric hospital between Atlanta and Gainesville, Fla., and also draws patients from south Atlanta suburbs. The facility features the region's only pediatric emergency room with board-certified pediatric specialists. The pediatric ER has already seen a 46% usage increase this year compared to the same period last year, according to its records, and the facility also features a Level 2 NICU, imaging centers and four pediatric operating rooms.
Navicent Health serves as the primary teaching hospital for the Mercer University School of Medicine and is the state's partner in the new Memory Assessment Clinic through Georgia Memory Net. The clinic is one of five in the state, and is supported by the Georgia Department of Human Services' Alzheimer's project, along with other community organizations, academic institutions, and the state Aging and Disabilities Resource Connection Network.
The outpatient memory clinic provides assessment and diagnostic testing of patients, followed by an individualized care plan.
Since the completion of its emergency department renovations about a year ago, Coliseum Health System has already experienced increasing ER volume at its two Macon hospitals: Coliseum Medical Centers and Coliseum Northside Hospital. By the end of 2019, it is expected that collectively, the two emergency rooms will have had approximately 100,000 visits, according to Stephen J. Daugherty, CEO of Coliseum Health System.
As part of the renovations, ambulance bays were expanded and new rooms were added at both hospitals. Coliseum Medical Centers' campus, which received $7 million for its expansion, added a new section for patients with from mental illness, as well as a new FAA-approved helipad outside of the ER.
Has the Navicent-Atrium merger had an impact on Coliseum Health System?
"Certainly, any time there's a change, it creates some dynamics in the market, whether that's shifting of business by physicians or staffing changes," said Daugherty, "but we haven't really seen a huge impact yet."
Coliseum, which earned an "A" score on a Leapfrog survey and has won community consumer recognition and other accolades, remains focused on its own growth strategies, he added, including expanding specialty services around certain surgeries and utilizing technologies such as telemedicine.
Greater Macon Chamber's Williams added that the growth of the health care industry in the Macon area is also bolstered by supporting businesses and institutions, including three Macon-based colleges – Mercer University, Middle Georgia State University and Wesleyan College – that have become a pipeline for medical professionals, including nurses.
Speaking about the region's wealth of infrastructure and health care resources, Williams said, "I think it's a great opportunity for the diversification of the state's economy that the Middle Georgia area can be just as significant as a major metropolitan area such as Atlanta."