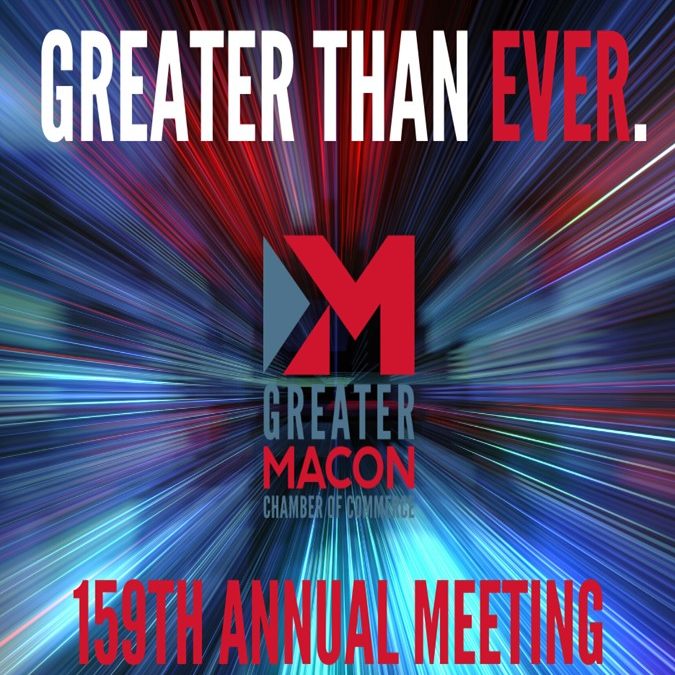 2019 Annual Meeting: Greater Than Ever
The Greater Macon Chamber of Commerce hosted their 159th Annual Meeting on Thursday, December 5th at the Museum of Arts and Sciences. With this year's theme being "Greater Than Ever", attendees were presented a recap of the successes of the Chamber and the Macon Economic Development Commission and introduced to an updated website and new branding. In addition, both individuals and businesses were recognized for their dedication and hard work over the past year.
During the meeting, the following business and community leaders were presented with awards in recognition of their extraordinary service during 2019.
Citizen of the Year: Dr. Ivan Allen
Robert F. Hatcher Award: Jaime Kaplan
Chamber Chairman's Award: Andrew Eck
Ambassador of the Year: Holly Beard
MEDC Champion Award: Visit Macon
Before concluding the meeting, Jim Manley, 2019 Board Chair, passed the gavel to incoming 2020 Board Chair, Julia Magda.
The 159th Annual Meeting was presented by Cox Communications. Other sponsors for the event included Gold Sponsors: GEICO and Georgia Power; Celebration Sponsors: Jones Cork, LLP and McNair, McLemore, Middlebrooks & Co., LLC, Certified Public Accountants; Silver Sponsors: B&D Industrial, James-Bates-Brannan-Groover-LLP, L.E. Schwartz, Macon-Bibb County, McGriff Insurance Services, Synovus and YKK.
###
About the Greater Macon Chamber of Commerce
Established in 1861, the Greater Macon Chamber of Commerce is the area's largest business services organization and primary advocate for the Macon business community. The Chamber supports the growth and development of business by offering networking and marketing opportunities, providing valuable benefits to its members, advocating for legislative issues that will promote a healthy business climate, and participating in the economic development efforts for Macon-Bibb. www.maconchamber.com
The Macon Economic Development Commission (MEDC)
The Macon Economic Development Commission (MEDC) is a public-private partnership funded by the Greater Macon Chamber of Commerce and the Macon-Bibb County Industrial Authority. MEDC works with Talent Recruitment/Retention; Addressing current and future skills gaps with our existing companies; Growth and Retention plans with our existing companies and Entrepreneurship/Small Business growth in Macon-Bibb
County, Georgia. www.maconworks.com