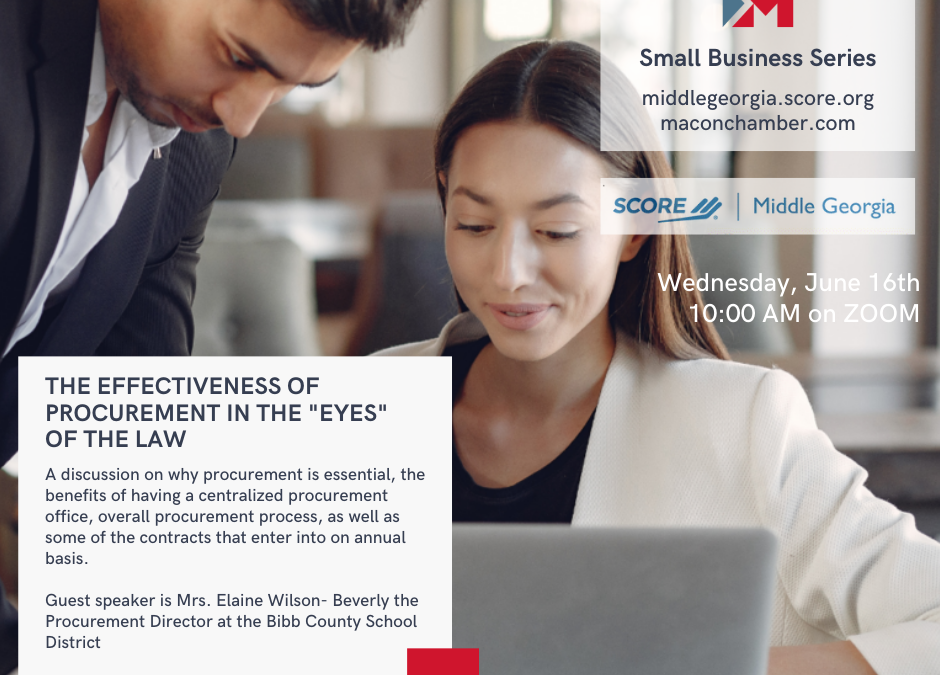 SCORE Small Business Series: Effective Procurement with Elaine Wilson-Beverly
When: Jun 16, 2021 10:00 AM Eastern Time (US and Canada)
Topic: Score Small Business Series: Effective Procurement
Register in advance for this webinar:
https://us02web.zoom.us/webinar/register/WN_zDRHChlbQEWzQqvDnH17tQ
———-
Webinar Speaker
Elaine Wilson-Beverly (Procurement Director @Bibb County Schools)
Mrs. Elaine Wilson-Beverly joined the Bibb County School District in September 2013 as the Procurement Director. The Procurement Office, often referred to as the Purchasing Department, is a centralized department that manages all of the purchasing activities within the District. Mrs. Wilson – Beverly is also accountable for ensuring the warehouse and internal mail delivery is effective in its day-to-day operation. Mrs. Wilson – Beverly along with her team guarantee the best value for the District when allocating and spending taxpayer dollars.
Mrs. Wilson – Beverly has been a member of the Georgia National Institute of Governmental Purchasing for the past ten years. She is a member of GPAG (Georgia Procurement Association of Georgia) where she has served as both the Education Committee Chairman and Budget Committee Chairman.
Mrs. Wilson – Beverly is a graduate of The Fort Valley State University. She holds a master's degree from Troy State University.