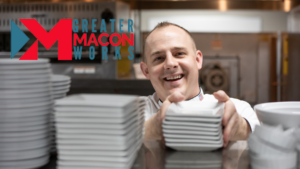 Macon GoHire Career Fair
July 13-14, 2021
In response to the many employers that are struggling to recruit qualified employees post-COVID, Goodwill Industries of Middle Georgia & the CSRA, the Greater Macon Chamber of Commerce, and Visit Macon have joined forces to host the Macon GoHire Career Fair.
When: Tuesday, July 13, 2021 (Hospitality), 9:00 am – 1:00 pm
              Wednesday, July 14, 2021 (Industry) from 9:00 am – 1:00 pm
Where: Anderson Conference Center, 5171 Eisenhower Parkway, Macon, GA 31206
Participation for employers in this event is free of charge and each vendor setup will include one 6' table and two chairs. Please bring your own tablecover. 
The Macon Go Hire Career Fair will also offer a virtual vendor booth in conjunction with the live event through the www.greatermaconworks.com career platform. Businesses can create a booth during the application process. Job seekers will have an advance opportunity to learn more about the participating organizations prior to attending the live event.
Virtual booths will go live on Friday, July 9 and remain active through Friday, July 16 at www.greatermaconworks.com.  A brief booth creation tutorial will be hosted for vendors on Wednesday, June 30th at 2 pm via Zoom to support any businesses that need assistance with the virtual component.
For more information, contact Lauren Beaty, Macon Works Project Coordinator, at lbeaty@maconchamber.com or call 478-621-2004.
Please join us and follow the link below to RSVP and secure your table to the event.  When your participation is confirmed, an email will be sent to you with more details.  Sign up today as booths are limited to 30 organizations per day!
On behalf of Goodwill, Greater Macon Chamber of Commerce, and Visit Macon, we hope to see you there!
space