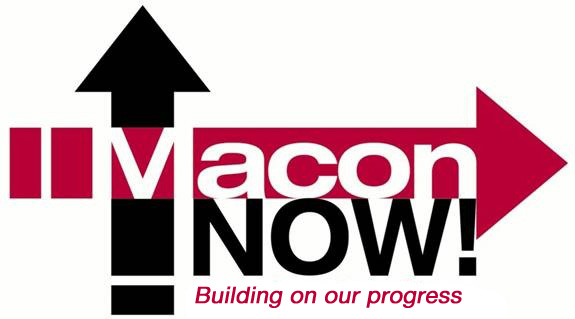 Macon NOW 3.0 is a five-year economic prosperity initiative designed to benefit all residents of Macon-Bibb County by creating well-paying jobs that will expand the tax base, increase the level of consumer spending at local businesses, diversify the local economy and improve the overall quality of life.
The initiative includes three key strategies:
Strategy 1: Existing Industry – Development, Retention & Expansion
Strategy 2: New Business Development
Strategy 3: Workforce Development & Talent Retention
Many thanks to our Honor Roll Investors in Phase 3 of Macon NOW!
A T & T
Adams, Jordan & Herrington, P.C American Pride Bank
B & D Industrial
BB & T Bank
Malcom S. Burgess
Butler Automotive Group
Cadence Bank
Central Georgia Technical College
Clifton, Lipford, Hardison & Parker, LLC
Coliseum Health System
Community Foundation of Central Georgia
Constangy, Brooks, Smith & Prophete, LLP
Cox Communications
Dunwody/Beeland Architects, Inc.
Fickling & Company, Inc.
Georgia Power Company Geotechnical & Environmental Consultants, Inc.
GIGA
Global Parts Distributors, LLC
Dr. Kirby Godsey
Graphic Packaging International
Habersham Enterprises
Hays Service, LLC
Howard, Moore & McDuffie, P.C.
Hutchings Funeral Home, Inc.
Infinity Network Solutions, Inc.
Jones Cork, LLP
Ken's Pro Sound
Dr. Ruth Knox
L.E. Schwartz & Son, Inc.
Lisenby & Associates
Macon Magazine
Macon Occupational Medicine, LLC
Macon Tent Rentals
McNair, McLemore, Middlebrooks & Co., LLC
Peyton Anderson Foundation MetroPower, Inc.
MidCountry Financial Corp.
The Mutual Financial Group
Navicent Health
Northwestern Mutual—Macon
OneSouth Bank
Panaprint, Inc.
Renasant Bank
Richardson Financial, Inc.
Rivoli Reality
SCANA Energy
SP Design Group, Inc.
Spivey, Pope, Green & Greer, LLC
Synovus Bank
Walthall Oil Company
YKK (USA), Inc.

BECOME A CHAMBER MEMBER
MEMBERSHIP MATTERS. JOIN THE CONVERSATION.
Membership in the Greater Macon Chamber of Commerce is a solid investment in the future of Macon-Bibb County and the entire Middle Georgia Region. With a unified vision and the strength of over 1,000 members, the Greater Macon Chamber of Commerce promotes a pro-business climate that encourages business growth and success. Your voice matters, so join today. Call (478) 621-2000 for more information.