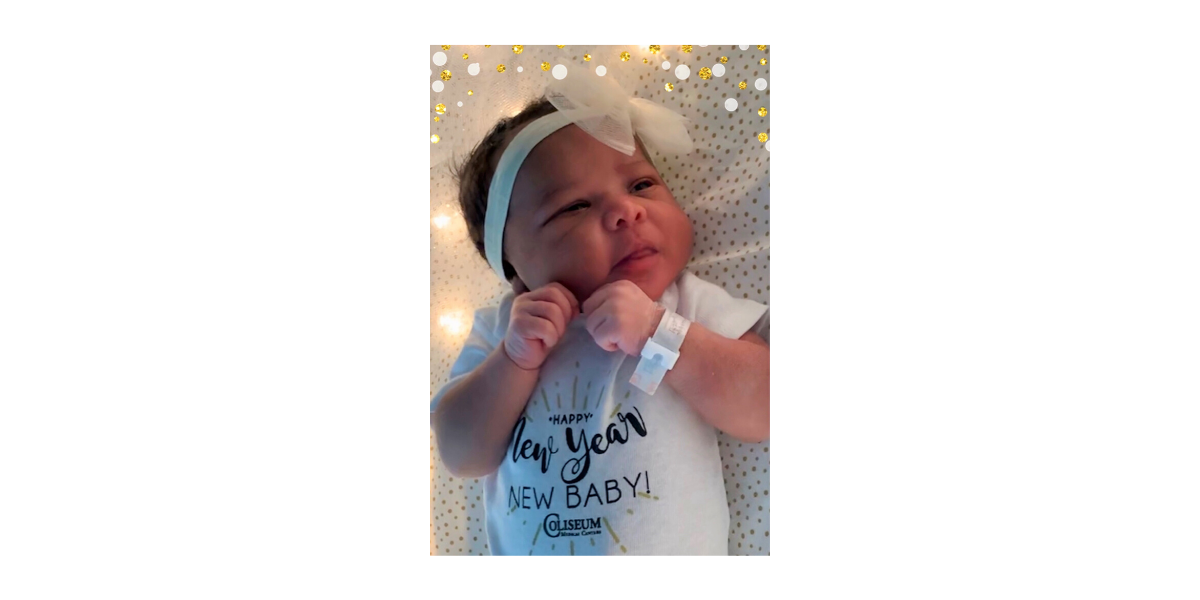 Coliseum Medical Centers Announces First Baby of 2020
(Macon, GA) – Coliseum Medical Centers is happy to announce their first baby of the decade! Baby girl Hailey Rose was born at 2:41am on January 1, weighing 7 pounds and 4 ounces and measuring 20 inches long. She was delivered by physician Dr. Wilson Gray. Nurses Aneeky Reid-Thompson, Michelle Davis, and Ellen Cook have all had the honor of caring for little Hailey Rose and her mother.
Hailey Rose, along with all of the other babies who rang in the new year at Coliseum Medical Centers received a "New Year, New Baby" onesie to mark the special occasion.
For more information about labor and delivery services at Coliseum Medical Centers, visit www.ColiseumDelivers.com.
About Coliseum Medical Centers
Owned by HCA Healthcare (HCA), Coliseum Medical Centers is a 310 bed facility offering a 24-hour emergency room, diagnostic services, inpatient and outpatient surgery options, rehabilitation programs, and behavioral health. In addition, Coliseum Medical Centers' services include specialty facilities such as the Coliseum Heart Institute, an advanced cardiac center offering all services from non-invasive cardiology to open heart surgery, Coliseum Rehabilitation Center, Coliseum Robotics Institute, Coliseum Cancer Institute, Coliseum Diabetes Management Center, and the Family Ties Birthing Center, which includes a level III neonatal nursery. The Coliseum Center for Behavioral Health provides treatment to adults with psychiatric and addiction issues. For more information about Coliseum Medical Centers' services, visit www.coliseumhealthsystem.com.
###